Oct 16, 2022
Healthy Fall Recipes
Pumpkin. Squash. Stews and soups. Cooler weather has us craving hearty comfort food full of autumnal ingredients. But, as our friends NewYork-Presbyterian Lower Manhattan Hospital know, that doesn't mean we should kick our healthy eating habits to the curb. In fact, NewYork-Presbyterian's Health Matters has plenty of inspiration for making delicious fall dishes that will satisfy your appetite and keep your health on track. Here are some of our favorites. 
Healthy & Delicious Fall Recipes
On crisp, cool days, a homemade bowl of chili or soup is a great way to warm up. Even better, the nutrition experts at NewYork-Presbyterian have suggestions for making those hearty dishes good for you, too. Check out their recipes for Chunky Roasted Vegetable Chili and Butternut Squash and Sage Soup here. As NYPBeHealthy coach Maria Biondi explains, vegetables like pumpkin and butternut squash contain vitamin A, which helps boost the immune system, while spices like cinnamon and ginger have anti-inflammatory properties. You'll also find some of these powerful ingredients in NYP's recipes for White Bean and Butternut Squash Hummus, Pumpkin Bread, and a Pumpkin Banana Smoothie.
Hearty Soups & Stews
The aroma of soup or stew simmering on the stove is not only comforting; it can also prevent us from gorging on unhealthy snacks. This Health Matters story will set you up with some tasty ways to fill your home with the scent of garlic, oregano, cumin and other spices in dishes like Tomato and Cannellini Bean Stew, Black Bean Soup, and Curry Red Lentil Soup.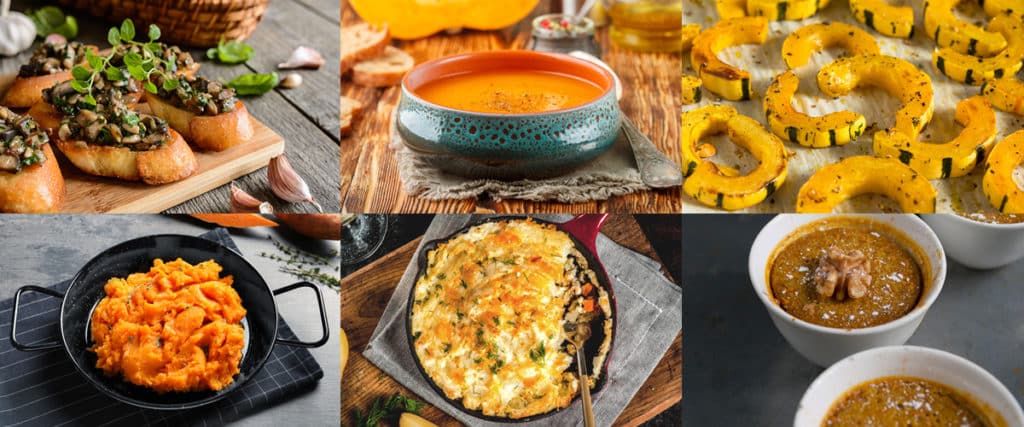 Healthy Thanksgiving Recipes
Hosting Thanksgiving or Friendsgiving this year? While over-indulgence may be part of the holiday tradition, there are ways to make some of your favorite dishes a little healthier. The recipes in this post are "a lot lower in sugar than your traditional Thanksgiving recipes," says Joseph Malota, director of Food and Nutrition at NewYork-Presbyterian Hudson Valley Hospital's Chef Peter X. Kelly Teaching Kitchen, "and they're also packed with fiber to help you feel full longer." The story also recommends ways to stay mindful during your holiday meal, such as starting with soup to put the brakes on how fast you eat, and taking a few deep breaths before digging in. Bookmark this post for healthy Thanksgiving recipes such as Quinoa & Cranberry Stuffed Acorn Squash, Maple Roasted Brussels Sprouts and Turkey Shepherd's Pie.
For more healthy living tips and insight from the team at NewYork-Presbyterian, bookmark healthmatters.nyp.org.